Rumor post!!! Put on your tinhats people, because it's time to feel the love!
Official rumor post!
We're gonna try something new here. It might blow up in my face, but I'm gonna give it a chance.
I am making this post a sticky, and I am making it possible for everyone to comment and add your own interpretations of song lyrics, quotes from interviews, pictures, weird coincidences and odd occurrences. I will when possible (a.k.a. when I have the time) add findings, pictures and quotes to the post.
Rules:


Show respect. Always. It is okay to speculate and be curious, but we are dealing with real human beings, who both value their privacy, so show them some consideration.


Whenever possible, add proof in the form of sources, receipts, screen shots, interviews etc.


Stay on topic.


It is okay to disagree with each other's interpretations of "evidence" but be polite. Any flaming, insults or trolling will be deleted and you will run the risk of being banned.


Hi everyone,
I have some news that I want to share. A bunch of you may have seen this, but there will also be some who hasn't and I think it's something you all deserve to see.
I love the fact that even after all this time, this pairing can still surprise us and show some life :)
The first one is subtle, but still a sweet gesture:
Next one is very cool. Two great comments on Facebook, one from Eamon Farrell and the other from Steve Mannion - Eamon's husband! ;)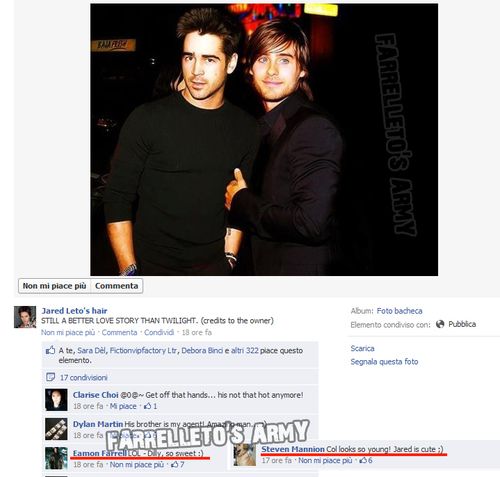 But the last one is by far the greatest. I was stunned and still am. It's awesome that Jared actually responded considering the thousands of tweets he receives every single day.
And may I say, for a control freak like Jared, who so rarely replies to any of the personal tweets (and when he does he's always so careful and measured), this is so out of character. And yet, it's evasive, elusive and could easily be written off as a joke – which, ironically, is Jared in a nut shell, leaving me to believe it was maybe no accident.
What do you guys think?
Have a nice week :)
Comments {49}